Custom Orthotics
Custom crafted orthotics to suit your lifestyle.
SInce each orthotic is custom crafted for you, your footwear, and your lifestyle, the materials and look of the orthotic will vary but here are some examples of orthotics made in our laboratory.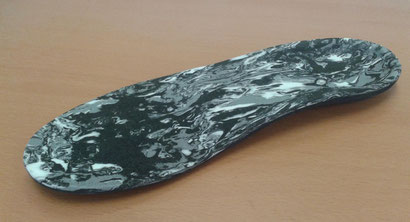 Orthotics - Casual Orthotic
Orthotics - Sport Orthotic
Orthotics - Dress Orthotic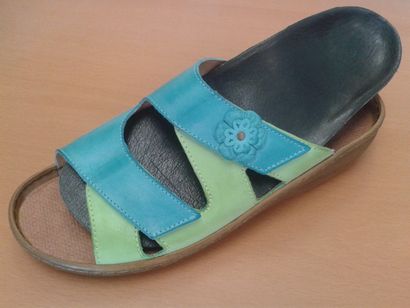 Orthotics - Sandal Orthotic
The Fine Print:
The fee for custom made orthotics includes everything you need to satisfy your insurance provider (biomechanical assessment, gait analysis, materials list) performed by a Certified Pedorthist.  The consultation, fitting and any follow ups are included.  It also includes creating the casts of your feet used in the making of the orthotics which we return to you for subsequent pairs from us or another lab.  There is no tax if prescribed by a medical doctor.  
The fee for additional orthotics includes making your orthotics from casts provided, either from our lab or another lab.  Again, there is no tax if prescribed by a medical doctor.
Why are our fees less than others?  Because we do everything in house. 
PAIN!
Sore feet are usually the reason people start to consider custom orthotics if they've never had them before. Perhaps you've been pain free all your life and now you have a stabbing pain in your heel. Although you are welcome to call us for a no fee consultation, your first stop should be your family doctor to diagnose a medical condition that could be causing the pain. If your doctor feels a custom made orthotic would benefit you, they will write a general prescription to that effect and we take over in assessing and treating your condition. If you have an insurance plan, you will almost always require a prescription from a medical doctor stating a diagnosis and the prescribed treatment. Note that as a pedorthist we cannot issue a prescription.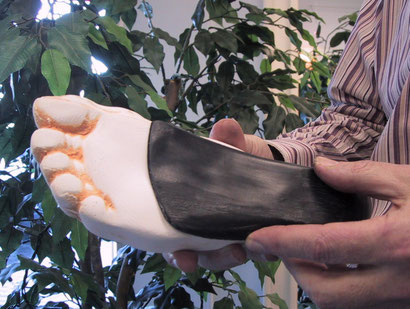 ASSESS:
If you arrive at our clinic with a doctor's prescription, our role is much like a pharmacists in that we must follow the prescribed treatment be it a heel cushion, shoes, arch supports or custom orthotics. If a custom orthotic is prescribed, our role is to assess your feet and gait to construct the orthotic accordingly. Most insurance companies require a report detailing our findings of your biomechanics and gait plus any foot conditions or health issues related to the orthotics. Since examining your footwear is part of this assessment, we ask you to bring a pair of shoes typical of the style you prefer with some wear on them. We will also be examining your bare feet so please wear stockings easily removed. The assessment usually takes about 3/4 of an hour so we prefer you make an appointment to avoid waiting, but walk-ins are welcome.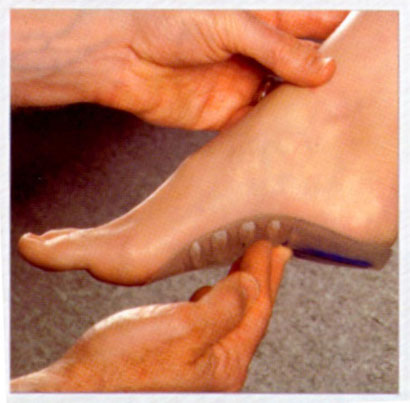 IMPRESSIONS:
Yes, you will leave an impression with us. As mentioned, there are many methods to doing this. Some use a computerized "gait plate" to record the bottom of your foot when you walk. Some use a computerized scanning system to record the shape of the foot in a static position. The most traditional method is to use a "slipper cast" which is essentially a cast made over your foot and then removed when it sets. We prefer to use a foam impression where the foot is pressed into a special foam leaving a three dimensional model. All of the above methods can be effective if done correctly and it really comes down to the qualifications and experience of the person taking the impressions.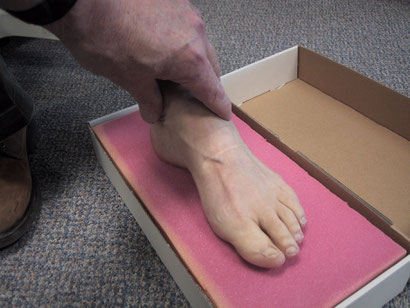 CAST CORRECTIONS:
With computer scanning systems, the operator will now make any adjustments to the scanned impression of your feet largely relying on the computer software before emailing the scan file to the lab they use. Practitioners using the slipper cast or impression foam method will mail the impression to the lab to have your orthotics made with notes on any corrections needed from what they observed during the assessment relying on the lab to implement these adjustments. At Foot-FX, we do the corrections in our on-site lab. The same individual that performed the assessment takes the impressions and does the corrections to the impressions.
CONSTRUCTION:
Making orthotics requires a blend of materials to perform the goals identified during the assessment. Some materials compress with weight and heat, some do not. Some are very rigid and some are very soft. Knowing which materials to use to achive the goals identified in the assessment is the art of making orthotics. Basically, an orthotic must have a degree of strength to last for many years, yet be comfortable. Whenever possible, they must work in the shoes you prefer to wear. They must correct the misaligments in your feet and gait without over correcting and worsening your condition.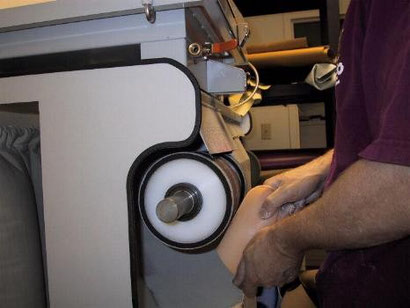 FITTING:
When you pick up your orthotics, usually after about 2 weeks, please allow time to trim and fit them into your shoes and check for any unusual pressure areas. We reassess your gait with the orthotics to ensure your new orthotics are performing as intended. We then ask that you adjust to them gradually by restricting your wear to an hour the first day, 2 hours the second day, and so on. After one week you should be able to wear them comfortably all day. Within two weeks they should be second nature, but if not we want you back.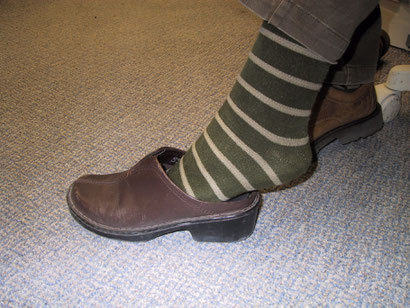 FOLLOW UP:
Because our lab is on-site, adjustments are usually done immediately. Because we believe the making of orthotics is an art, not a science, things can go wrong in the process of assessing and making your orthotics. We will do adjustments once or twice, but if your orthotics are not wearable, we will completely remake them at our cost to your complete satisfaction. That is our policy and our promise to you.
LIFE EXPECTANCY:
Most orthotics will last a number of years under normal use. Obviously, cover materials can become quite worn and can be replaced at a modest cost, but the underlying shell of the orthotic is very durable. Since we return the casts of your feet to you, you can test the orthotic yourself by placing them over the casts to see if they have changed shape. If so, we can usually re-form them to the casts. Feet will change over time so we usually re-cast after 2 years, but that is up to you. We use the best materials available and are constantly attending seminars to keep up to date with new technologies.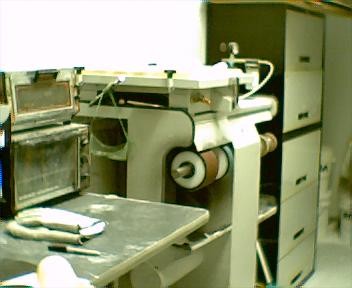 ADDITIONAL PAIRS:
When you are completely satisfied with your orthotics, you may wish to have additional pairs made so you do not have to move them from shoe to shoe. Perhaps your lifestyle requires you have different types, for example a dress-style and an athletic-style orthotic. When you pick up your orthotics, we will give you the casts of your feet which you can return at any time to have additional pairs made at approximately half the cost of the original orthotics. Check with your insurance provider to see if a new prescription is required.
We're on TV!
Watch us on CTV Ottawa Morning Live with Sarah Freemark to learn all about how we make custom orthotics at Foot-FX.
Go to the Videos page.